– Article by Geoff Lawson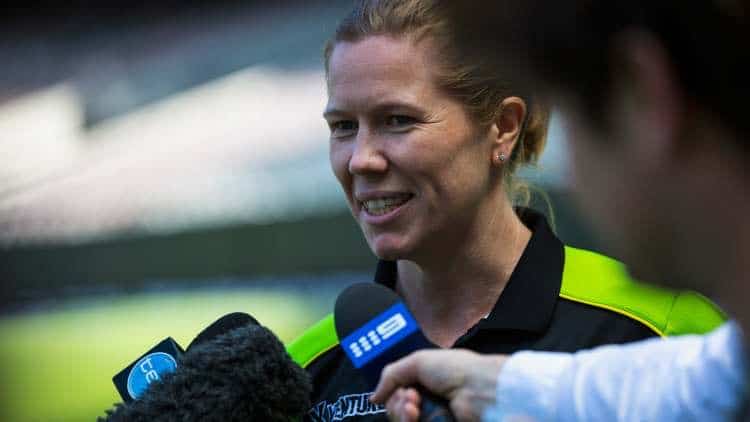 Image source: SMH – Alex Blackwell 
It's a confusing time in the cricket world – in a good way.
Confusion caused by so much activity from the flannelled fools; a plethora of fixtures and formats that would make Roy and HG shudder. Just when is too much cricket not enough?
We have already had two Test series, completed a domestic 50-over competition, the Sheffield Shield is three-quarters done, half of the WNCL has been played, the WBBL is done and dusted, we're just past the halfway point in the BBL, the Australian men's team is on a trip (couldn't really call it a tour) to India – and that's all before Australia Day.
Reverse sweeping towards us is the women's T20 tri-series against India and England, followed by the Women's T20 World Cup – which will be opened, slogged, swatted and closed between February 15 and March 8. For the aficionados, you can even follow Australia A versus the English Lions men's series.
Plenty to pontificate about or just sit back and watch as the various spectacles unfold on our screens or up close and personal in the stands. And that's just the home fixtures. Australia are also contesting the Under-19 World Cup now in South Africa against the likes of Nigeria and Japan.
…
Fortunately, the Fairbreak organisation (an international advocate for gender equality) has taken up the cudgel to promote opportunity through the sport in a number of the forgotten cricket-playing countries.
As an adjunct to the World Cup, a Fairbreak team will play the first match against a Bradman Foundation team at Bradman Oval on February 22. The Fairbreak team will be comprised of players from 10 different countries and include arguably Australia's finest player Alex Blackwell, and representatives from Vanuatu, the Netherlands, Botswana, Singapore, the US, England, Hong Kong and Ireland. The match will be live-streamed (http://fairbreak.ion-sport.com) and there will be an early match against a first SCG XI women's team. The main game starts at 2.30pm and the pipe opener is at 10.30am.
Full article here on SMH.